It's Tips and Tricks Tuesday! Today we will talk about how to rent your extra DVC Points!
Are you a DVC member with extra points that you can not use this year? I just sold mine and earned over $1,000!
Grumpy and I became Disney Vacation Club (DVC) Members in 2008. For those of you that do not know, DCV is a Disney Timeshare. Here's a very high-level description:
You purchase a real estate interest in a DVC resort (mostly in Florida.) You are issued annual points. You determine how many points to purchase based on your vacation habits, your family size and finances etc. You then exchange those points for rooms at the Disney Resorts. or you can rent them to someone else, if you can't use them.
I know, what many people say about timeshares, "you are throwing away money", "it's a waste", BLAH, BLAH, BLAH. We own two different timeshares, and although I firmly believe that timeshares aren't right for everyone, it was absolutely the right choice for our family of six. We have never regretted our decision. With all that said, this post is not to debate the efficacy of timeshares, this post is about how we earned over $1,000 by selling our DVC timeshare points. So let's get to it.
It is 2020, we are in the middle of a world pandemic, known as COVID-19. We live in Oregon, so we rarely use our points to go to the Florida resorts anyway. This year, we know we are hunkered down for the duration. However, there are people that need to/want to travel and would like/need to stay in larger accommodations.
So, what happens when you have folks that are looking for deluxe villas in Florida, California or Hawaii and folks that have those accommodations, but can't use them? Enter David's Vacation Club Rentals. For complete transparency, we are now affiliated with David's DVC Rentals, so we could be compensated if you click on the links and rent from them or sell your points. But we highly recommend it based our experience. Which we outline below.

I was skeptical at first, but I went online, I read the reviews and thought, "Why not give it a whirl?" I have nothing to lose. If they don't rent my points, then I am no better off than I am right now. So, I went to their site and filled out the form to sell my points to another family that could use them. I immediately received an email response from a David's representative with the contract details. Point of Clarification here, when filling out the online form, you have to be very clear about what you are willing to sell and what you aren't willing to sell. They are asking you how many of your points you are willing to sell. At first, I sold this year's points and next years, so when I received the contract, it wasn't what I wanted. I sent them an email back stating exactly what I wanted. They responded quickly with a brand-new contract, which I immediately agreed to. All of this was done via email.
Once you fill out the paperwork, it's a waiting game. David's is matching those that want a vacation resort villa with those that are selling them. It took about two weeks when, on a Sunday afternoon, I received an email from David's that stated, "We have an immediate need and are sending this request out to several owners. The first to respond, will get the contract." I jumped on it immediately. Within a few hours, they responded that the contract was ours.
The next morning, they sent me the information for the guest(s) that would be vacationing using my points. My role at this point was to sign into my DVC account and book the reservation for them. Once I received the reservation email, I was instructed to send it back to the David's representative. I did exactly that.
The next morning, I received another email that said they had received payment from the guest and that 70% of the reservation would be sent to my PayPal account. This is part of the contract that you agree to in the beginning, so read the contract carefully. 70% is given to you immediately and 30% when the guest checks in. This resort (Aulani) is a higher price point than regular resorts, since it is in high demand and there are not that many contracts. Aulani points at the time of writing this blog is $15.50 per point, where other resorts are $14.50.
So for example, if you have a contract for 84 points that sells at Aulani, that equals $1302. (84 x $15.50). 70% = $911.40, which I received immediately and the other $390.60 will be received when the guest checks in.
By that afternoon, the money was deposited into my PayPal Account and I transferred it into my bank account. The entire process took less than 3-days.
The process was so easy, I was pleasantly surprised. If you'd like to sell or rent points for an upcoming Disney Vacation, please consider renting from David's Vacation Club Rentals. You can use the links included in this post.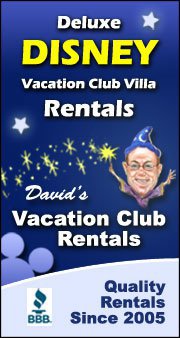 Like this post? Sign up to our email list and be notified when we share new ideas! It's ok, you can unsubscribe at any time.